See on Scoop.it – Social Media sites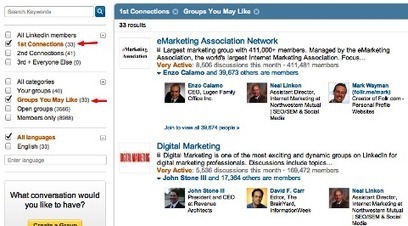 Excerpted from the article:
"Here are five key strategies and activities you can focus on to build and grow your network.
#1: Update Your Status Frequently and Consistently:
Here are a few ideas on how to be an active LinkedIn member:
– Update your status at least three times a day.
– Share and comment on the updates of your first-, second- and third-degree connections at least once a day.
– Send an invitation to connect to at least one new person per day.
– Start and/or participate in LinkedIn Group Discussions three times a week.
– Answer questions on "LinkedIn Answers" three times a week.
– Comment on profile updates from the companies you follow on LinkedIn once a day.
Be selective about the tweets you choose to send automatically into LinkedIn from your Twitter account.
#2: Build Connections Constantly:
To always look for connection opportunities. LinkedIn recently enhanced its People You May Know feature.
#3: Be Strategic about When You are Active on LinkedIn:
Focus your participation activities during the times when you have the best chance to be seen.
#4: Join and Actively Participate in LinkedIn Groups:
LinkedIn Groups are one of the most active areas of the network and the participation stats are quite compelling.
You must jump into the new and popular conversations and add value as a member!
Pick three to five groups that make sense for you to be actively involved.
#5: What You Share Matters:
What you share on LinkedIn does matter. This is what will define you as a trusted authority within your industry and with your target markets.
The key is to share news, articles and insights that are relevant to your connections if you want to attract and grow the right audience.
Be a resource and be helpful to your connections in addition to finding ways to create dialogue with them…"
Read full article: http://j.mp/JErQZE
See on www.socialmediaexaminer.com